Gold Lust All Over Oil
Regular price

Sale price

$78.00
Replenish and restore with a curated blend of 17 intensely nourishing and protective natural oils. Rich in antioxidants and essential fatty acids, this luminous beauty elixir nourishes, protects and locks in moisture from head to toe. Designed to hydrate and soften hair, body, face and décolleté. May also be used as a deep treatment for hair overnight or a conditioning beard oil. Regardless of where it's used, this fast-absorbing oil is sure to leave behind an all-day radiant glow.

HOW TO USE

Apply several drops to hair, body and face. This wonder oil leaves you luxuriously moisturized and exceptionally radiant

Benefits

- 99% natural - For use on hair, body and face - Intensely hydrates, replenishes and softens - Leaves hair and skin with a radiant, healthy glow - Helps protect against moisture loss

Ingredients:

Olive Fruit Oil conditions and adds brilliant shine while making hair softer and more manageable. Safflower Seed Oil promotes moisture retention to soften and condition hair while protecting against free-radical damage. Argan Oil adds lightweight shine, softens, reduces frizz and improves hair's condition and manageability. Castor Seed Oil moisturizes and strengthens hair to help prevent breakage and split ends. Apricot Oil absorbs quickly to seal in moisture, smooth the cuticle and tame frizz. Watermelon Seed Oil hydrates and nourishes hair while protecting from pollution. Coconut Oil, known for its essential fatty acids, helps combat dryness to nourish, moisturize and soften. Especially good for coarse, curly hair. Meadowfoam Seed Oil softens skin while protecting against moisture loss Key Body Ingredients: Sunflower Seed Oil improves the appearance of skin and helps to maintain its natural moisture barrier. Black Currant Seed Oil deeply nourishes to increase elasticity and leaves skin with a healthy glow. Avocado Oil absorbs into skin to lock in hydration and prevent dryness. Key Face Ingredients: Jojoba Oil softens dry, coarse facial hair while nourishing the skin, including underneath the beard. Sweet Almond Oil deeply hydrates and conditions to soften skin. Lemon Peel & Bergamot Fruit Oils help tone and enhance skin's clarity Jasmine Oil nourishes skin while imparting a luminous, youthful glow. Grape Seed Oil, known to be rich in vitamin E, helps improve skin tone and restore skin's natural moisture barrier to help promote elasticity.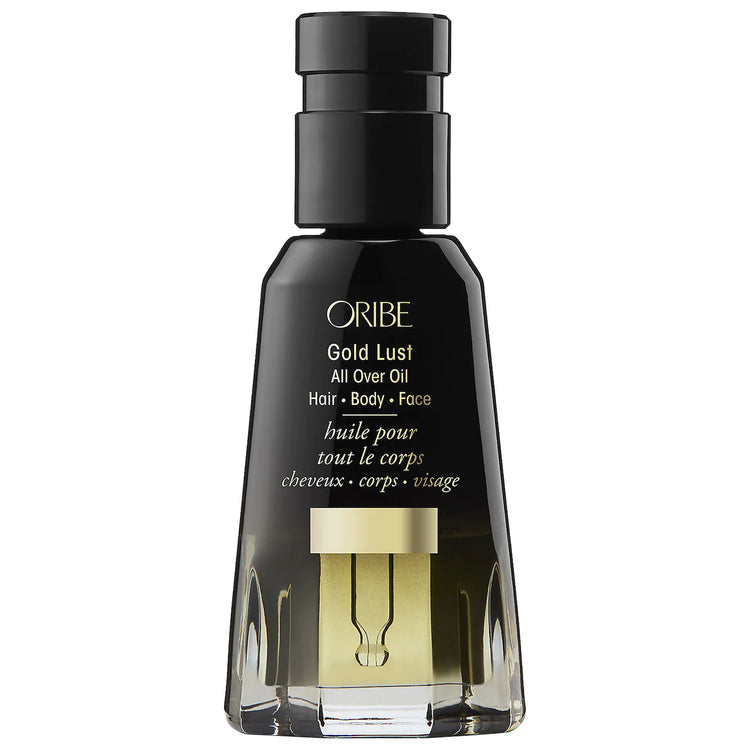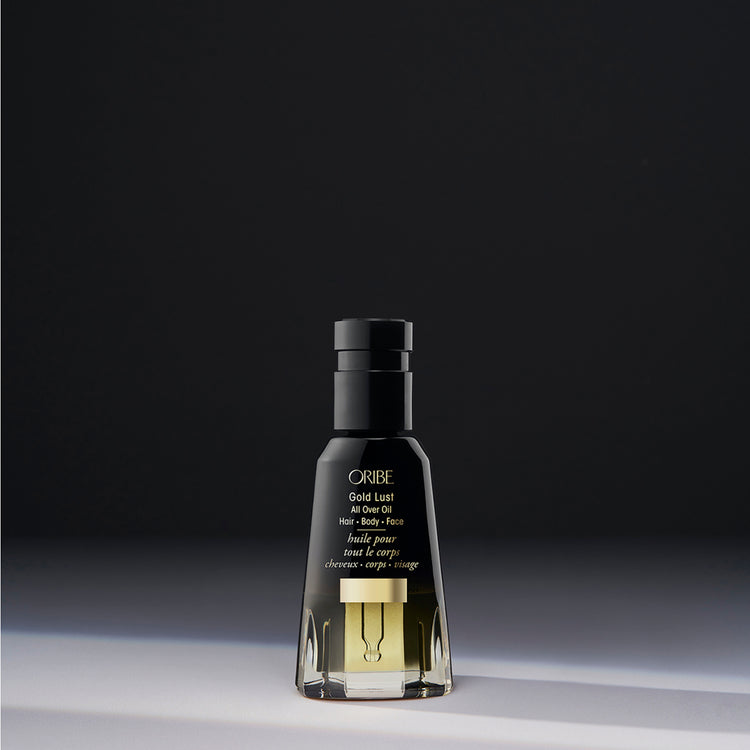 Frequently Asked Questions
What is the Gold Lust All Over Oil and how can it be used?

The Gold Lust All Over Oil is a luxurious, multi-purpose oil that nourishes and enhances the hair, face, and body. It is infused with a blend of exotic oils, including argan oil and cassis seed oil, known for their nourishing and hydrating properties. This versatile oil can be used as a pre-shampoo treatment, leave-in conditioner, facial moisturizer, or body oil, providing hydration and a healthy glow.
How do I use the Gold Lust All Over Oil on my hair?

To use the Gold Lust All Over Oil on your hair, apply a few drops to the palms of your hands and distribute it evenly through damp or dry hair. Focus on the mid-lengths to ends, avoiding the roots. The oil helps to nourish and hydrate the hair, leaving it softer, smoother, and more manageable. It can also be used as a deep conditioning treatment by applying a generous amount to the hair and leaving it on for 30 minutes before shampooing.
Can the Gold Lust All Over Oil be used on the face?

Yes, the Gold Lust All Over Oil can be used on the face. It is a lightweight and non-greasy oil that can be applied to the face as a moisturizer. Take a few drops of the oil and gently massage it into clean, dry skin. The oil absorbs quickly, leaving the skin nourished, hydrated, and radiant. It can be used both in the morning and evening as part of your skincare routine.
Is the Gold Lust All Over Oil suitable for all skin types?

Yes, the Gold Lust All Over Oil is suitable for all skin types. Its lightweight formula makes it suitable for oily and combination skin, as it absorbs quickly without leaving a greasy residue. It is also beneficial for dry and mature skin, providing deep hydration and helping to improve the appearance of fine lines and wrinkles. The oil is non-comedogenic, meaning it won't clog pores, making it suitable for acne-prone skin as well.
Can the Gold Lust All Over Oil be used on the body?

Absolutely! The Gold Lust All Over Oil can be used on the body as a moisturizing oil. Apply a few drops to your palms and massage it into clean, dry skin. The oil helps to hydrate and nourish the skin, leaving it soft, smooth, and supple. It can be used on areas that require extra moisture, such as elbows, knees, and cuticles, or as an all-over body oil for a luxurious and pampering experience.