Gold Lust Conditioner
Regular price

Sale price

$70.00
Discover the fountain of youth for soft, shiny, ageless hair. Blending time-honored oils and extracts—cypress, argan and maracuja—with our revolutionary bio-restorative complex, this ultra-hydrating conditioner softens and revitalizes, smoothing each cuticle to undo the damage of time (and style).

HOW TO USE

Massage, indulge (for at least one minute), rinse.

Benefits

- Moisturizes and restores hair to a youthful state without weighing it down - Smoothes each cuticle for ultra-soft hair - Reverses damage by sealing in moisture to strengthen - Protects against future damage - Helps reduce split ends

Ingredients:

Oribe Signature Complex (Watermelon, Lychee and Edelweiss Flower) defends hair from oxidative stress, photoaging and the deterioration of natural keratin, all while protecting from the drying, damaging and color-depleting effects of the elements. Mediterranean Cypress Extract, known in ancient times as a symbol of immortality, deeply moisturizes for long-lasting repair. Bio-Restorative Complex, including Plant Collagen, Caffeine, Biotin and Niacinamide, repairs damage by penetrating the root to fortify, deeply nourish and strengthen the cuticle from the inside out while also energizing the scalp and rejuvenating hair follicles. Argan Oil adds healthy shine, repairs damage and controls frizz. Strengthening Protein Blend reverses existing damage and reduces split ends.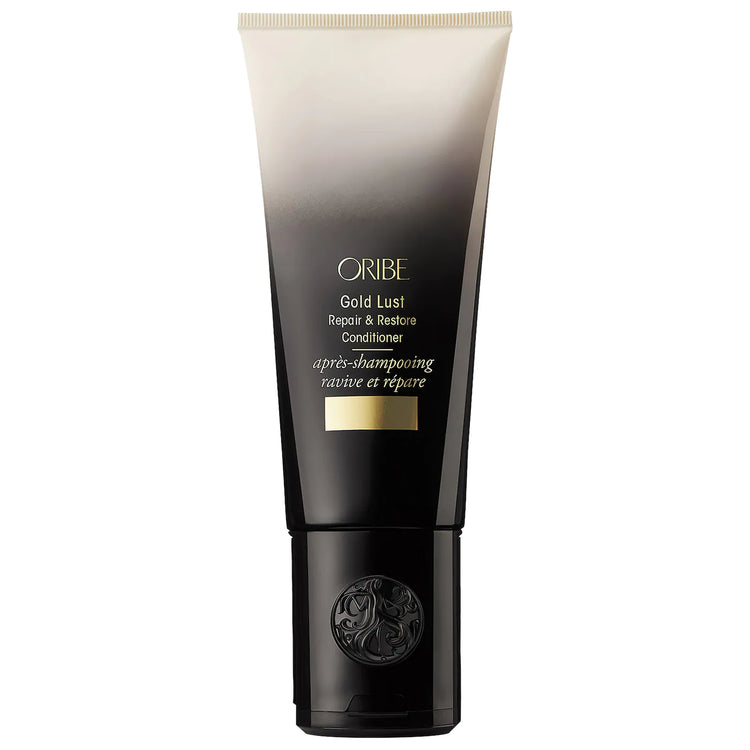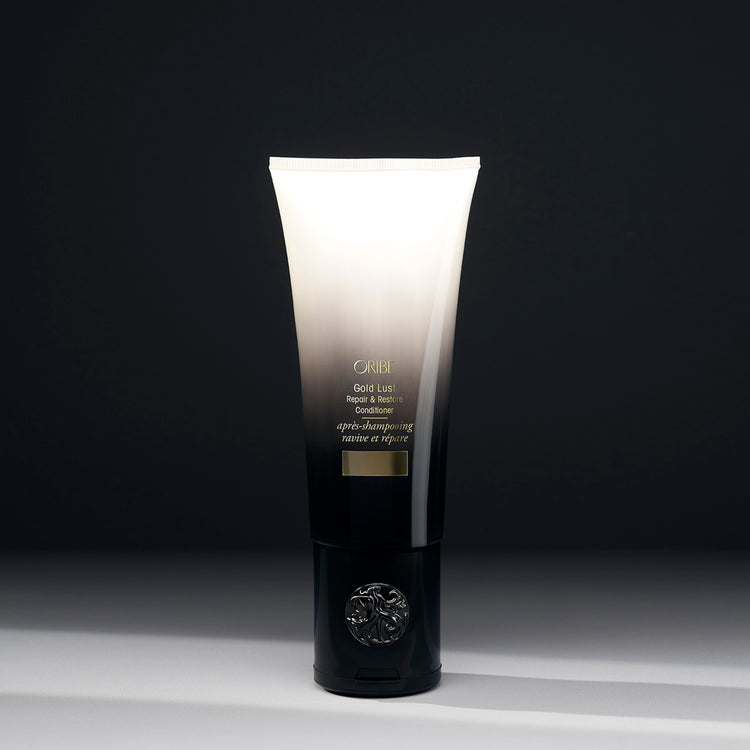 Frequently Asked Questions
What is Gold Lust Conditioner and what are its benefits?

Gold Lust Conditioner is a nourishing hair conditioner that helps to repair and restore damaged hair. It is infused with a blend of natural oils, including argan and maracuja, which work together to strengthen and protect hair from environmental stressors. The conditioner also helps to add moisture and hydration to hair, leaving it soft, shiny, and healthy-looking.
How often should I use Gold Lust Conditioner?

For best results, it is recommended to use Gold Lust Conditioner after shampooing, 2-3 times per week. Apply the conditioner to damp hair, focusing on the mid-lengths and ends. Leave the conditioner on for 2-3 minutes, then rinse thoroughly with warm water. Using the conditioner too often may lead to buildup and weigh down your hair.
Can Gold Lust Conditioner be used on all hair types?

Yes, Gold Lust Conditioner can be used on all hair types, including color-treated hair. Its unique formula is designed to nourish and repair hair, leaving it soft, shiny, and healthy-looking. However, if you have particularly oily hair, you may want to use the conditioner sparingly, as it may weigh down your hair.
Is Gold Lust Conditioner cruelty-free?

Yes, Gold Lust Conditioner is cruelty-free. Oribe does not test their products on animals, and they are committed to using only vegan, sustainable ingredients in their formulations. In addition, their packaging is recyclable and eco-friendly, further reducing their impact on the environment.
How does Gold Lust Conditioner compare to other hair conditioners?

Gold Lust Conditioner is a high-end hair conditioner that is formulated with natural oils and ingredients. It is designed to repair and restore damaged hair, while also providing hydration and nourishment. Many users report that Gold Lust Conditioner is more effective than other hair conditioners they have used, and that it leaves their hair looking and feeling healthier and more radiant. While it is a more expensive option compared to other hair conditioners on the market, many users find that the results are worth the investment.