Gold Lust Masque
Regular price

Sale price

$86.00
This truly modern remedy penetrates to rebuild each fibre with curative white tea, baobab, jasmine and our bio-restorative complex, improving elasticity and fortifying hair to rediscover its softness, body and inner brilliance. Restore overworked hair to its prime with each dose.
HOW TO USE?

Massage, indulge (for as long as you want), rinse.

Benefits:

- Provides intense nourishment and conditioning - Rebuilds and fortifies each fiber - Strengthens the cuticle and fills in weak spots - Improves elasticity for ageless hair - Restores overworked hair to a youthful state - Adds softness, shine and body

Ingredients:

Oribe Signature Complex (Watermelon, Lychee and Edelweiss Flower) defends hair from oxidative stress, photoaging and the deterioration of natural keratin all while protecting from the drying, damaging and color-depleting effects of the elements. Grape Seed Oil, known to be rich in Vitamin E, moisturizes and conditions hair. Sweet Almond Protein repairs dry and damaged hair, leaving a bright luster. Sunflower Seed Extract softens hair and delivers incredible shine. Jojoba and Rice Proteins provide powerful conditioning while adding luster and shine. Hydrolyzed Vegetable Protein hydrates, strengthens and helps protect hair from damage and split ends. Ginger Root Extract softens and strengthens hair from root to tip.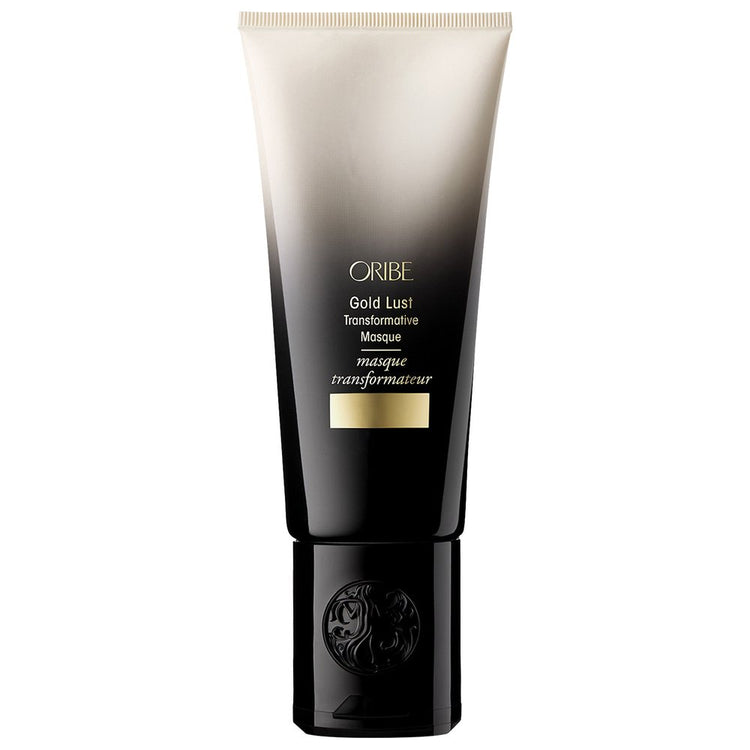 Frequently Asked Questions
What is the Oribe Gold Lust Masque and what are its benefits?

The Oribe Gold Lust Masque is a transformative hair treatment that helps to repair and restore damaged hair. It is enriched with a potent blend of botanical extracts, vitamins, and natural oils to nourish and revitalize the hair. The masque deeply penetrates the hair shaft, providing intense hydration, strengthening the hair strands, and improving overall hair health. It helps to repair damage caused by environmental stressors, heat styling, and chemical treatments, leaving the hair smooth, shiny, and manageable. Additionally, the masque helps to protect the hair from further damage, prevents breakage, and reduces frizz. It is a luxurious treatment that rejuvenates and transforms the hair for a healthier and more vibrant appearance.
How often should I use the Oribe Gold Lust Masque?

The frequency of using the Oribe Gold Lust Masque depends on the condition of your hair. For hair that is severely damaged or in need of intensive repair, it is recommended to use the masque once a week or every two weeks. Apply the masque to clean, damp hair, and leave it on for 5-10 minutes to allow the treatment to penetrate deeply. For hair that is in relatively good condition, using the masque once a month or as needed can help maintain its health and vitality. Adjust the frequency of use based on your hair's needs and desired results. Overuse of the masque may lead to product buildup, so it is important to find the right balance for your hair.
Can the Oribe Gold Lust Masque be used on color-treated hair?

Yes, the Oribe Gold Lust Masque is safe to use on color-treated hair. In fact, it can be particularly beneficial for color-treated hair that is prone to dryness and damage. The nourishing ingredients in the masque help to replenish moisture, restore vibrancy, and enhance the longevity of hair color. The masque is formulated without sulfates, parabens, and sodium chloride, which can be harmful to color-treated hair. Instead, it contains a blend of high-quality botanical extracts, oils, and proteins that provide hydration, strengthen the hair, and protect against color fading. Incorporating the Gold Lust Masque into your haircare routine can help maintain the health and beauty of your color-treated locks.
Can the Oribe Gold Lust Masque be used on all hair types?

Yes, the Oribe Gold Lust Masque is suitable for all hair types. Whether you have fine, medium, or thick hair, and whether your hair is straight, wavy, curly, or coily, this masque can benefit you. It is especially beneficial for those with dry, damaged, or frizzy hair, as it provides deep hydration and helps to restore the hair's natural moisture balance. The masque is lightweight and does not weigh down the hair or leave it feeling greasy or heavy. It is designed to nourish and repair the hair, regardless of its texture or type. Incorporating the Gold Lust Masque into your haircare routine can help improve the overall health and appearance of your hair.
How long should I leave the Oribe Gold Lust Masque on my hair?

For optimal results, it is recommended to leave the Oribe Gold Lust Masque on your hair for 5-10 minutes. After shampooing your hair, apply a generous amount of the masque from roots to ends, focusing on the areas that need the most attention. Gently comb through the hair to ensure even distribution. Allow the masque to penetrate the hair for the recommended time before rinsing thoroughly. If your hair is in need of intensive repair, you can leave the masque on for a longer period, up to 20 minutes, or cover your hair with a shower cap and apply heat to enhance the treatment. However, be cautious not to leave the masque on for an extended period as it may lead to product buildup.