Hair Alchemy Fortifying Treatment Serum
Regular price

Sale price

$83.00
Discover hair's ultimate strength. This treatment elixir combines our curative blend of chia seed, bio-fermented bamboo leaf and plant-based protein with phytoceramides and cotton seed extract to shield and fortify fragile strands. The sheer, fast-absorbing serum creates a protective veil around each hair fiber to improve tensile strength and elasticity while preventing breakage by strengthening from within to encourage length. Imagine invincible hair.

HOW TO USE?

Work a small amount into damp or dry hair to strengthen. Style as usual. Can also be used as an overnight treatment.

Benefits

- Reinforces and strengthens fragile hair from the inside out - Hydrates strands, locks in moisture and enhances softness - Forms a scaffold around each hair fiber to protect from external aggressors - Improves the tensile strength and elasticity of each hair strand - Prevents breakage and hair fall caused by brushing and styling, encouraging length over time. - Provides 450° F heat protection

Ingredients:

Oribe Signature Complex (Watermelon, Lychee and Edelweiss Flower) defends hair from oxidative stress, photoaging and the deterioration of natural keratin all while protecting from the drying, damaging and color-depleting effects of the elements. Multi-Action Hyaluronic Acid Complex rehydrates from within to deliver a surge of moisture and increase elasticity. Cotton Seed Extract strengthens and promotes elasticity to prevent breakage while adding softness to each strand. Curative Blend (Chia Seed, Bio-Fermented Bamboo Leaf and Plant-Based Protein) penetrates the hair cortex to build strength from within while forming a protective scaffold around strands to reinforce cuticle strength and structure, preventing breakage caused by brushing, styling and external aggressors. Green Tea and Plant Polysaccharides protect from environmental stressors by preventing the adhesion of pollution particles on hair. Phytoceramides act as a barrier on strands to prevent moisture loss while enhancing shine.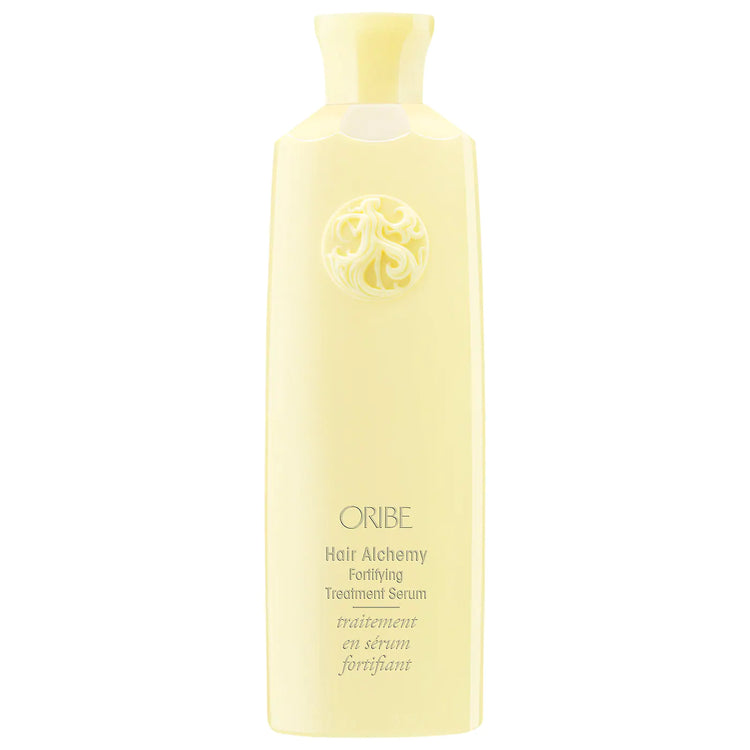 Frequently Asked Questions
What is the Hair Alchemy Fortifying Treatment Serum and what are its benefits?

The Hair Alchemy Fortifying Treatment Serum is a powerful serum designed to strengthen and nourish the hair. It is enriched with a blend of botanical extracts, vitamins, and proteins that help to repair damage, improve hair resilience, and promote healthier-looking hair. The serum also provides heat protection and helps to reduce frizz and flyaways.
How do I use the Hair Alchemy Fortifying Treatment Serum?

After shampooing and conditioning, apply a small amount of the Hair Alchemy Fortifying Treatment Serum to damp or towel-dried hair. Focus on the mid-lengths to ends, and comb through to distribute the product evenly. Style your hair as desired. The serum can also be used on dry hair to tame frizz and add shine.
Can the Hair Alchemy Fortifying Treatment Serum be used on all hair types?

Yes, the Hair Alchemy Fortifying Treatment Serum is suitable for all hair types. Whether you have fine, medium, or thick hair, the serum works to strengthen and nourish your strands, promoting overall hair health. It can be particularly beneficial for those with damaged or weak hair, as it helps to fortify and protect against further damage.
Is the Hair Alchemy Fortifying Treatment Serum safe for color-treated hair?

Yes, the Hair Alchemy Fortifying Treatment Serum is safe for color-treated hair. It is formulated without sulfates, parabens, and sodium chloride, which can strip or fade hair color. The serum helps to protect and strengthen the hair, ensuring that your color-treated locks stay vibrant and healthy.
How often should I use the Hair Alchemy Fortifying Treatment Serum?

You can use the Hair Alchemy Fortifying Treatment Serum on a daily basis or as needed. It is a leave-in treatment, so there's no need to rinse it out. Incorporate it into your regular hair care routine to enjoy its fortifying and nourishing benefits. Adjust the amount used based on your hair's needs, starting with a small amount and adding more if necessary.