Oribe Curl Gloss Hydration & Hold
Regular price

Sale price

$53.00
Curl without crunch. This lightweight glossing gel shapes and shines for ultra-hydrating control. A blend of Brazilian extracts, including Passion flower, jicama and cupaçu fight humidity and deeply conditioning for soft yet defined curls that hold all day.
HOW TO USE

Apply to damp hair. Define curls. Diffuse or air-dry.

Benefits:

- Lightweight formula provides soft, natural hold - Fights humidity to control frizz - Hydrates and conditions for soft curls - Adds brilliant shine - Provides all-day memory

Ingredients:

Oribe Signature Complex (Watermelon, Lychee and Edelweiss Flower) defends hair from oxidative stress, photoaging and the deterioration of natural keratin all while protecting from the drying, damaging and color-depleting effects of the elements. Passionflower Extract and Cupuacu, bothrich in essential fatty acids, amino acids and vitamins, deeply hydrate the hair. Brazilian Jicama smoothes and adds gloss to curls. Brazil Nut Extract brings shine, silkiness and softness to dry, lifeless curls. Conditioning Polymers leave hair silky, smooth and manageable while fighting frizz. Specialty Styling Resin provides long-lasting curl retention for control in high humidity. Protein Complex and Pro-Vitamin B5 bind moisture while helping to prevent breakage and strengthen hair. Aloe Vera moisturizes the hair and scalp.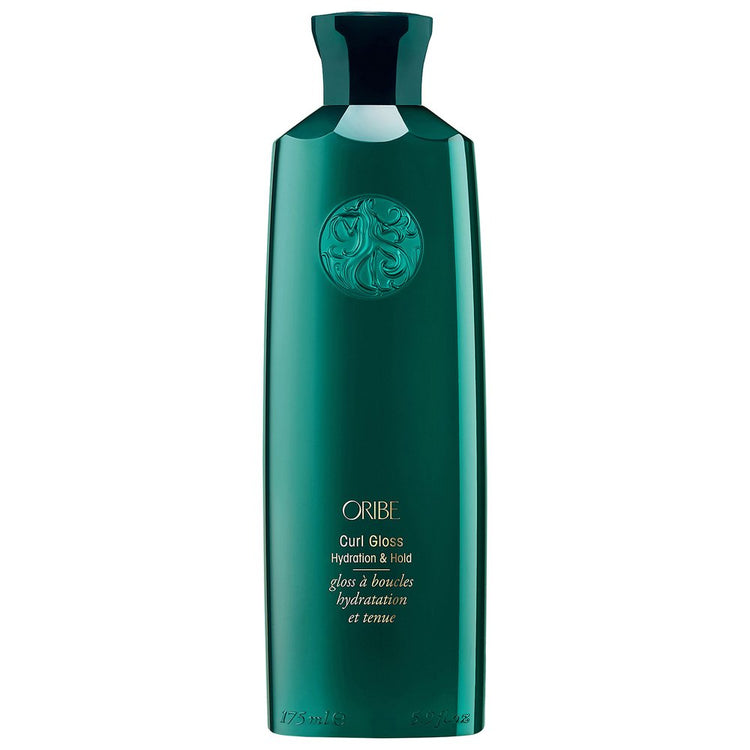 Frequently Asked Questions
What is Oribe Curl Gloss Hydration & Hold, and what does it do?

Oribe Curl Gloss Hydration & Hold is a high-performance styling gel designed specifically for curly and wavy hair. This lightweight gel provides hydration, definition, and long-lasting hold to enhance your curls. The Curl Gloss is formulated with a unique blend of ingredients that nourish and moisturize the hair while controlling frizz and adding shine. It helps to create bouncy, well-defined curls that are soft to the touch. The non-greasy formula of the Curl Gloss allows for flexible movement and natural-looking curls without any stiffness or crunchiness.
How do I use Oribe Curl Gloss Hydration & Hold?

To use Oribe Curl Gloss Hydration & Hold, start by applying a small amount to damp hair. Work the gel through the hair from roots to ends, ensuring even distribution. You can use your fingers or a wide-tooth comb to comb through the hair and define the curls. Allow the hair to air dry or use a diffuser attachment on your blow dryer to enhance the curl pattern. For more hold, you can apply additional gel to dry hair and scrunch or twist the curls. Adjust the amount of product based on your hair length and thickness, and experiment to find the perfect amount for your desired curl definition and hold.
Will Oribe Curl Gloss Hydration & Hold make my hair feel sticky or stiff?

No, Oribe Curl Gloss Hydration & Hold is formulated to provide flexible hold and hydration without leaving your hair feeling sticky or stiff. The lightweight gel formula allows for natural movement and touchable curls. It creates a soft, glossy finish that enhances the natural beauty of your curls without any unwanted residue or stiffness. The Curl Gloss is designed to give you the perfect balance of hold, hydration, and shine, so you can enjoy bouncy, defined curls that feel soft and touchable.
Can Oribe Curl Gloss Hydration & Hold be used on all curl types?

Yes, Oribe Curl Gloss Hydration & Hold is suitable for all curl types, from loose waves to tight coils. The gel is formulated to work effectively on a range of curl patterns and textures. Whether you have fine, medium, or thick curls, the Curl Gloss can help enhance and define your curls while providing hydration and hold. It allows you to achieve beautifully defined curls that are soft, shiny, and long-lasting. Whether you're looking to enhance natural waves or define tight curls, the Curl Gloss is a versatile product that caters to all curl types.
Can I use Oribe Curl Gloss Hydration & Hold with other styling products?

Yes, Oribe Curl Gloss Hydration & Hold can be used with other styling products to customize your curl routine. If you prefer additional hydration, you can apply a leave-in conditioner or a curl cream before applying the Curl Gloss. This will provide extra moisture and nourishment to your curls. If you want more hold, you can layer the Curl Gloss over a styling mousse or a gel. The key is to experiment and find the combination of products that works best for your hair and desired look. Oribe products are designed to be versatile and work well together, so feel free to mix and match to achieve your desired curl hydration and hold.