Oribe Featherbalm Weightless Styler
Regular price

Sale price

$53.00
Style, shine and weightless control. Specifically developed for finer hair textures, this ultra-light balm smooths and hydrates while imparting a hint of hold to blowouts, air-dried textures and finished styles that need a little polish.
HOW TO USE

Distribute throughout damp hair. Blow dry or air dry for feather-light styles. Can also be used throughout the day as a taming finisher.

Benefits:

- Can be used as a blowout lotion, light texturizer or finisher - Adds a touch of styling hold and hydration without weighing hair down - Detangles, smoothes and adds shine to strands

Ingredients:

Feather-Light Polymer Blend provides weightless hold for long-lasting, touchable style. Oribe Signature Complex (Watermelon, Lychee and Edelweiss Flower) defends hair from oxidative stress, photoaging and the deterioration of natural keratin all while protecting from the drying, damaging and color-depleting effects of the elements. Acai Fruit Oil, rich in essential fatty acids such as omega-3, 6 & 9, maintains hair health while smoothing strands and enhancing shine. Hydrolyzed Pea Protein restores softness and elasticity to dry, damaged, porous and brittle hair. Rice Bran Oil strengthens and protects hair from free radical damage. Passion Fruit Seed Oil smoothes and hydrates while replenishing hair's natural moisture.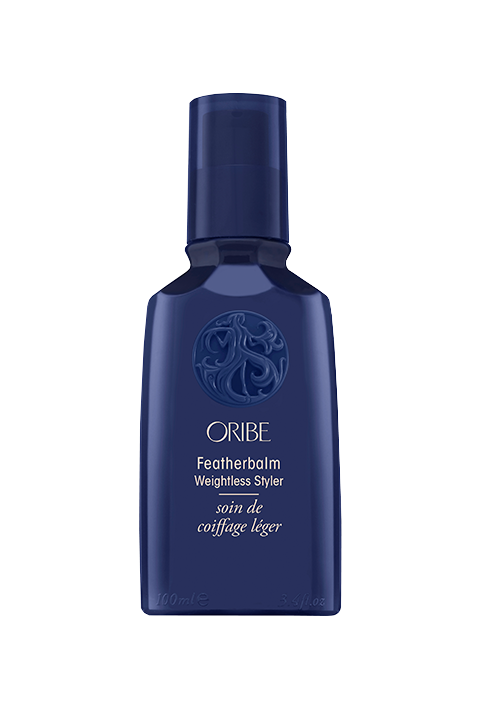 Frequently Asked Questions
What is Oribe Featherbalm Weightless Styler, and what does it do?

Oribe Featherbalm Weightless Styler is a versatile styling balm that provides lightweight hold, definition, and frizz control without weighing down the hair. This innovative styler is formulated with a blend of lightweight oils, amino acids, and plant extracts that nourish and protect the hair while enhancing its natural texture. The Featherbalm is designed to be used on damp or dry hair and can be applied from roots to ends to create a variety of styles, from sleek and smooth to tousled and textured. It helps to add shine, reduce flyaways, and improve manageability, making it an ideal product for all hair types and styles.
How do I use Oribe Featherbalm Weightless Styler?

To use Oribe Featherbalm Weightless Styler, start with damp or dry hair. Take a small amount of the styler and emulsify it between your palms. Apply the product evenly throughout your hair, focusing on the mid-lengths and ends. For a sleek and smooth look, use a comb or brush to distribute the product and then style as desired. For a more tousled and textured look, scrunch the hair with your hands while applying the Featherbalm. You can also use the styler to tame flyaways and add definition to specific sections of the hair. Experiment with the amount of product to achieve your desired level of hold and texture.
Is Oribe Featherbalm Weightless Styler suitable for all hair types?

Yes, Oribe Featherbalm Weightless Styler is suitable for all hair types. Its lightweight formula makes it ideal for fine or thin hair that can be easily weighed down by heavier styling products. The Featherbalm provides just the right amount of hold and control without compromising the natural movement and texture of the hair. It is also suitable for medium to thick hair, as it helps to reduce frizz, add shine, and improve manageability. Whether you have straight, wavy, curly, or coily hair, the Featherbalm can be customized to suit your individual styling needs. Adjust the amount of product and the application technique to achieve your desired style.
Can I use Oribe Featherbalm Weightless Styler with heat styling tools?

Yes, Oribe Featherbalm Weightless Styler can be used with heat styling tools. It provides a layer of heat protection to help shield the hair from the damaging effects of heat styling, such as blow dryers, flat irons, and curling irons. Before using heat styling tools, make sure your hair is completely dry or nearly dry. Apply the Featherbalm to your hair as usual and then proceed with your preferred heat styling technique. The styler will not only protect your hair from heat damage but also enhance the results by providing lightweight hold and definition. Remember to use heat styling tools responsibly and always apply a heat protectant before styling to maintain the health of your hair.
Can Oribe Featherbalm Weightless Styler be used as a leave-in conditioner?

Oribe Featherbalm Weightless Styler is primarily designed as a styling product rather than a leave-in conditioner. While it does provide some hydration and nourishment to the hair, its main purpose is to provide lightweight hold and texture. If you are looking for a leave-in conditioner, it is recommended to use a dedicated leave-in conditioner from the Oribe product range, such as the Oribe Supershine Moisturizing Cream or Oribe Run-Through Detangling Primer. These products are specifically formulated to provide intense hydration and conditioning benefits when used as leave-in treatments. However, if you have naturally well-hydrated hair or prefer a lighter conditioning option, you can use the Featherbalm sparingly as a leave-in styler to add a touch of definition and control to your hair.