Oribe Grandiose Hair Plumping Mousse
Regular price

Sale price

$49.00
Each luxe pouf gives hair an exaggerated sense of body and structure, without the slightest hint of crunch, All-day memory leaves styles supremely soft yet set, for hair that's thicker, fuller, larger than life.
HOW TO USE?

Shake it up, mousse it in, blow it big. To break the safety seal upon first use, remove the cap, place your thumb on the back of the applicator, and press firmly until it audibly clicks.

Benefits:

- Makes hair big, yet soft and touchable - Plumps the hair shaft to add volume and thickness - Provides heat protection and helps repair and strengthen hair

Ingredients:

Oribe Signature Complex (Watermelon, Lychee and Edelweiss Flower) defends hair from oxidative stress, photoaging and the deterioration of natural keratin, all while protecting from the drying, damaging and color-depleting effects of the elements. Structure-Forming Starch Polymer thickens and adds hold while smoothing and conditioning hair. Sunflower Seed Oil, Glycerin and Vitamin E moisturize and condition hair, leaving it hydrated and full of volume. Panthenol swells the hair shaft and volumizes the hair. Superior Styling Polymer provides long-lasting, flexible hold and memory.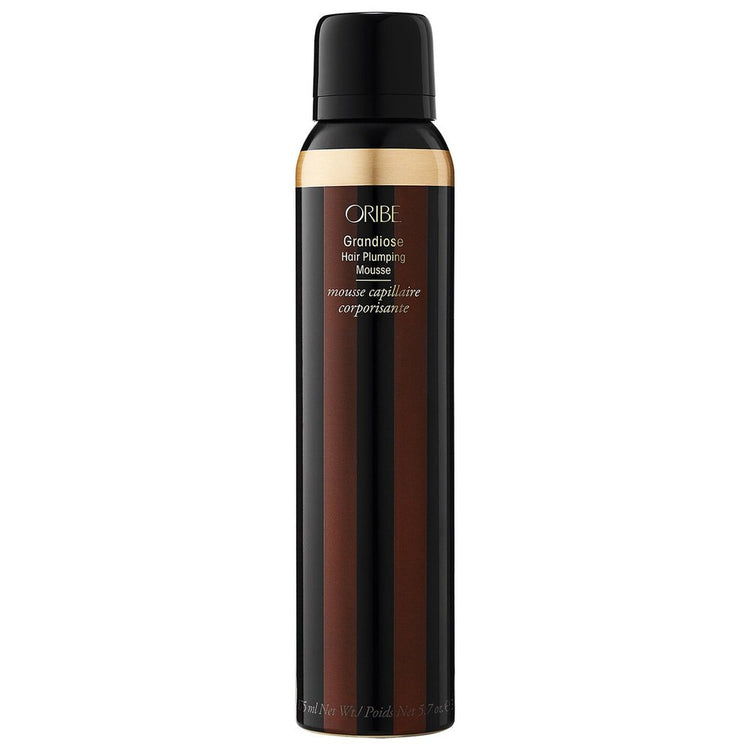 Frequently Asked Questions
What is Oribe Hair Plumping Mousse?

Oribe Hair Plumping Mousse is a lightweight styling mousse designed to add volume, body, and lift to the hair. This innovative formula combines a unique blend of ingredients that provide flexible hold, lift from the roots, and long-lasting volume. The mousse is enriched with Oribe's Signature Complex, which contains watermelon, lychee, and edelweiss flower extracts, known for their antioxidant properties and hair-nourishing benefits. It also includes a blend of amino acids that help strengthen the hair and prevent breakage. Oribe Hair Plumping Mousse can be applied to damp hair before blow-drying to achieve fuller, thicker-looking hair with enhanced texture and natural movement.
How do I use Oribe Hair Plumping Mousse?

To use Oribe Hair Plumping Mousse, start by shaking the can well to activate the formula. Dispense a small amount of mousse into your palm and distribute it evenly through damp hair, focusing on the roots for added lift. Comb through the hair to ensure even distribution. Proceed to blow-dry your hair using a round brush or your preferred styling technique. The mousse provides thermal protection and helps to set your desired style, whether you're aiming for a voluminous blowout or enhanced texture. For best results, use Oribe Hair Plumping Mousse as part of your regular styling routine to achieve long-lasting volume and fullness.
Can I use Oribe Hair Plumping Mousse on fine or thin hair?

Yes, Oribe Hair Plumping Mousse is suitable for fine or thin hair types. The lightweight formula of the mousse adds volume and body to the hair without weighing it down or leaving a heavy, sticky residue. The mousse is designed to provide a flexible hold, allowing your hair to maintain natural movement and bounce. It creates a plumping effect that lifts the roots, making it an ideal choice for those with fine or thin hair who desire added volume and thickness. Oribe Hair Plumping Mousse can transform limp, lifeless hair into a fuller, more voluminous style, giving your locks the boost they need to look and feel their best.
Can I use Oribe Hair Plumping Mousse on dry hair?

Oribe Hair Plumping Mousse is primarily designed to be used on damp hair before blow-drying. The mousse is formulated to work optimally when applied to wet or damp hair, allowing it to distribute evenly and create volume during the blow-drying process. However, if you want to refresh your style or add some extra volume to dry hair, you can apply a small amount of the mousse to your fingertips and gently massage it into the roots for a quick volumizing boost. Avoid applying too much product to prevent any potential build-up or stickiness. Remember, for the best results, it is recommended to use Oribe Hair Plumping Mousse on damp hair before styling.
Does Oribe Hair Plumping Mousse contain any sulfates or parabens?

No, Oribe Hair Plumping Mousse is free from sulfates and parabens. Oribe is committed to creating high-quality hair care products that are both effective and gentle on the hair. The mousse is formulated without sulfates, which are known to strip the hair of its natural oils and can cause dryness. It is also free from parabens, which are preservatives that some people may prefer to avoid. Oribe Hair Plumping Mousse utilizes a carefully selected blend of ingredients that provide volume, hold, and nourishment to the hair, without the use of sulfates, parabens, or sodium chloride. Enjoy the benefits of this luxurious mousse, knowing that it is formulated with the utmost care for the health and beauty of your hair.