Oribe Thick Dry Finishing Spray
Regular price

Sale price

$53.00
Plump up the volume with this high-density finishing spray that inflates hair for extra thickness and lushness. Oribe's secret for hair that's big, beautiful and beyond luxurious.
HOW TO USE?

Shake. Spray. Plump. Finishes and holds styles. Add heat for extra volume. To break the safety seal upon first use, remove the cap, place your thumb on the back of the applicator, and press firmly until it audibly clicks.

Benefits:

- Adds density and dry hold without stickiness - Creates voluptuous, bombshell hair - Lightweight moisturizers prevent hair from looking dry and dull - Extends the life of your blowout - Thickens the hair shaft from roots to ends

Ingredients:

Naturally-Derived Polymer reduces oiliness and creates volume while leaving the hair with a soft, dry finish. Oribe Signature Complex (Watermelon, Lychee and Edelweiss Flower) defends hair from oxidative stress, photoaging and the deterioration of natural keratin, all while protecting from the drying, damaging and color-depleting effects of the elements. Panthenol swells the hair shaft and volumizes the hair. Zeolite Crystallines behave like tiny sponges to absorb and trap dirt, oils and odors to lift and add body to the hair. Hydrolyzed Vegetable Protein strengthens damaged hair, protects the hair shaft and enhances body and shine.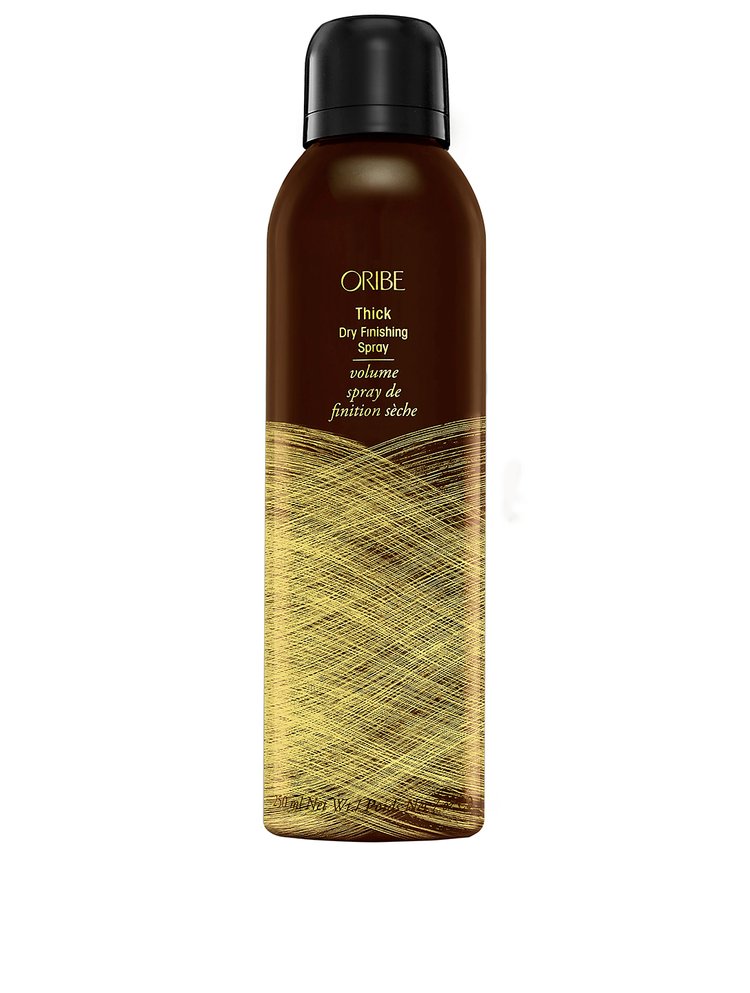 Frequently Asked Questions
What is Oribe Thick Dry Finishing Spray and what does it do?

Oribe Thick Dry Finishing Spray is a multi-purpose texturizing spray that adds volume, texture, and hold to the hair. It is designed to create a fuller, thicker appearance while providing a flexible and natural-looking finish. The spray absorbs oil and refreshes the hair, making it perfect for adding body and revitalizing hairstyles.
How do I use Oribe Thick Dry Finishing Spray?

To use Oribe Thick Dry Finishing Spray, shake the can well and hold it 10-12 inches away from dry hair. Spray evenly throughout the hair, focusing on the roots and mid-lengths for added volume and texture. Style as desired using your fingers or a brush to create the desired look.
Can Oribe Thick Dry Finishing Spray be used on all hair types?

Yes, Oribe Thick Dry Finishing Spray is suitable for all hair types. It is particularly beneficial for fine or thin hair, as it adds body and thickness to create the appearance of fuller hair. It can also be used on medium to thick hair to enhance texture and hold.
Is Oribe Thick Dry Finishing Spray buildable and reworkable?

Yes, Oribe Thick Dry Finishing Spray is buildable and reworkable, allowing you to customize your hairstyle throughout the day. You can layer the spray for increased volume and hold, and it can be easily brushed out or restyled without leaving a heavy or sticky residue.
Does Oribe Thick Dry Finishing Spray leave a residue or weigh down the hair?

No, Oribe Thick Dry Finishing Spray is formulated to be lightweight and invisible, leaving no residue or buildup on the hair. It provides a flexible hold and texture without weighing down the hair, allowing for natural movement and a touchable finish.