WELCOME TO THE 30 DAY HAIR CHALLENGE.
THANK YOU FOR SIGNING UP FOR FRANKIE'S 30 DAY HAIR CHALLENGE. WE HAVE CREATED 30 DAYS WORTH OF HAIR TIPS & TRICKS TO KEEP YOUR HAIR FRESH & FEELING ITS BEST.
ABOUT FRANKIE.
AS CO-FOUNDERS OF FRANKIE THAT WORKED TOGETHER FOR 8 YEARS, WE WERE ALWAYS DREAMING OF THE DAY WE COULD RUN OUR OWN SALON SPACE THAT WAS BEAUTIFUL, WELCOMING, INSPIRING, & THAT FELT LIKE A SECOND HOME TO STAFF & CLIENTELE ALIKE. WE ARE BEYOND BLESSED TO NOW BE OPENING OUR DOORS & WELCOME YOU TO SEE OUR VISION. AT FRANKIE, WE ABSOLUTELY LOVE WHAT WE DO. WE ARE ALWAYS GRATEFUL TO HAVE THE OPPORTUNITY TO WELCOME PEOPLE TO OUR DREAM SPACE & DO MORE HAIR. FRANKIE HAS A RELAXED ATMOSPHERE, WITH STYLISTS THAT WOULD LOVE TO SEE YOU COME AS YOU ARE. WE WELCOME EVERYONE & ENJOY LEARNING EACH OF YOUR UNIQUE STORIES. OUR HOPE IS THAT YOU COME FOR GOOD HAIR BUT WANT TO STAY FOR THE GREAT COMPANY.
NIELA STEPHENS AND TESS BALL.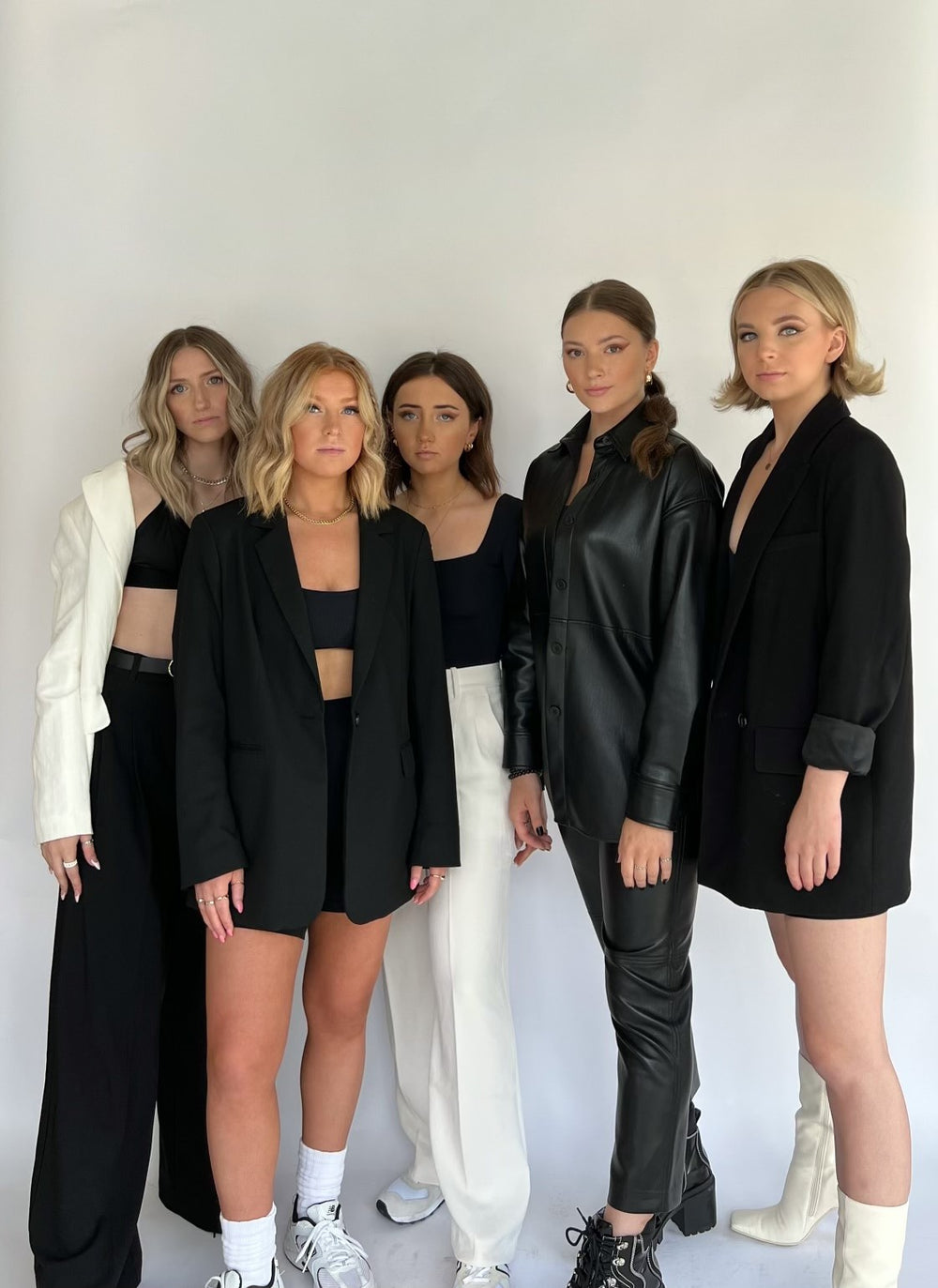 DAYS.
DAY 1
DOUBLE SHAMPOO
START THESE 30 DAYS OFF RIGHT WITH FRESH & CLEAN HAIR. TO WASH YOUR HAIR, SHAMPOO TWICE & FOLLOW WITH YOUR FAVOURITE CONDITIONER (OURS IS THE ORIBE HAIR ALCHEMY).
"ALWAYS SHAMPOO TWICE, ONE TO REDUCE BUILD UP & DIRT, THE SECOND TO GET ALL THE BENEFITS FROM YOUR SHAMPOO & LEAVE YOUR HAIR FEELING FRESH"
-MICAYLA//FRANKIE STYLIST
DAY 2
BEACH WAVES
FOR DAY 2 OF OUR CHALLENGE TRY OUT SOME BEACHY CURLS IN YOUR HAIR. LONG OR SHORT, THIS WILL GO WITH ANY OUTFIT ANYTIME OF THE YEAR. AFTER CURLING, ADD IN SOME TEXTURE SPRAY TO GIVE IT A BIT OF A MORE MESSY//BEACHY LOOK.
TAKE ABOUT A 1/2 INCH TO 1 INCH AT A TIME
WRAP THE HAIR AROUND THE BARREL, AWAY FROM YOUR FACE
HOLD FOR ABOUT 3-10 SECONDS
UNRAVEL HAIR FROM THE BARREL 2-4 TIMES
LET CURL SET AND COOL BEFORE BRUSHING OUT TO ENSURE LONGEVITY
Day 3
MESSY PONY
USING YESTERDAYS CURLS, PUT YOUR HAIR UP IN A MESSY PONY. IF YOUR HAIR IS SHORT, TRY A LOW PONY OR ADD A BIT OF DRY SHAMPOO AND KEEP THOSE CURLS FRESH.
PRODUCTS WE LOVE:

Day 4
WASH AND BLOWOUT
RESET DAY: WASH YOUR HAIR USING THE DOUBLE SHAMPOO METHOD AGAIN. BLOW DRY THE HAIR UNTIL ITS 80-90% DRY, THEN GO IN WITH A ROUND BRUSH TO CREATE THE SHAPE AND VOLUME. PRO TIP: USE THE SUTRA BLOWDRY BRUSH TO MAKE THIS PROCESS FASTER AND EASIER!
Day 5
BRAIDS AND BLOWOUTS
REFRESH & RESTYLE DAY: SPRAY ROOTS WITH DRY SHAMPOO TO FRESHEN UP THE HAIR, THEN SECTION OUT A SMALL TRIANGLE SECTION TO BRAID. TRY ONE ON EITHER SIDE OR TWO LIKE PICTURED.
Day 6
CLAW CLIPS
IF YOUR HAIR IS FEELING DIRTY AND BLAH TODAY, A GOOD WAY TO SPICE UP YOUR LOOK IS TO ADD IN A CLAW CLIP. IF YOU ARE WANTING A HALF UP HALF DOWN - SPRAY SOME ORIBE DRY SHAMPOO AND BRUSH THROUGH GIVING TEXTURE TO ADD IN THE CLAW CLIP OF CHOICE. IF YOU ARE FEELING AN ALL UP STYLE FOR YOUR DAY TODAY, SPRAY ORIBE DRY SHAMPOO AND GATHER EVERYTHING INTO A LOW PONY, TWIST IT UP AND SECURE WITH A CLAW CLIP OF CHOICE.
Day 7
BRAIDED PONY
STRETCH YOUR HAIR 1 MORE DAY AND TRY THIS SLICK TRENDY LOOK, ADD IN SOME HAIR GEL//CREAM TO EMBRACE THE GREASE.

TRY USIING A BACK COMB BRUSH TO GET THE BEST SLICK LOOK.
Day 8
STRAIGHT STRAIGHT STRAIGHT
TO REMOVE SOME OF THAT BUILT UP PRODUCT, WASH WITH A CLARIFYING SHAMPOO. WE RECOMMEND ORIBE'S "THE CLEANSE" CHARCOAL SHAMPOO. AFTER THIS, ENSURE THAT YOU USE A MOISTURE MASK TO FILL THE HAIR WITH MOISTURE. TOWEL DRY AND APPLY ORIBE'S STRAIGHT AWAY LOTION FROM ROOTS TO ENDS TO CUT BLOWDRYING TIME, AS WELL AS GIVE YOU A SUPER SLEEK LOOK WITH ZERO FLYAWAYS.
(MAKE SURE TO ADD BALM D'OR HEAT PROTECTION TO THOSE ENDS BEFORE APPLYING ANY HEAT)! BLOW-DRY WITH A BRUSH FOR A SUPER SLEEK SMOOTH BLOWOUT. PROCEED TO USE A FLAT-IRON, SECTION BY SECTION IF NEEDED AFTER THE BLOW-DRY. FINISH WITH NO FRIZZ (LIVING PROOF) AND ORIBE OIL.
Day 9
ACCESSORIZE
SPICE UP THE STRAIGHT HAIR FROM YESTERDAY WITH SOME ACCESSORIES, A FEW OF OUR FAVOURITES ARE HEADBANDS//CLAW CLIPS//BANG CLIPS OR A SCRUNCHIE.
Day 10
PONIES FOR DAYS
TRY THIS TWIST ON A PONYTAIL, START BY PARTING YOUR BANGS SEPARATE FROM THE HAIR IN THE PONY AND THEN USE A CREAM OR GEL TO SLICK THE HAIR BACK. IF YOU WANT TO MAKE IT MORE FANCY, USE AN INCH OF HAIR FROM THE PONY TO WRAP AROUND THE ELASTIC. THEN CLIP THE BANGS BACK SLICKED USING BOBBY PINS, USE AS MANY AS NEEDED AND USE THEM TO ACCESSORIZE.
Day 11
FAKE BLOWOUT
TRY THIS EASY FAKE BLOWOUT ON YOURSELF! BLOW DRY YOUR HAIR GIVING LOTS OF VOLUME WITH YOUR ROUND BRUSH. USING YOUR CURLING IRON (MAKE SURE TO ADD IN YOUR FAVOURITE HEAT PROTECTANT BEFORE USING ANY HOT TOOLS. OUR FAVOURITE IS THE ORIBE BALM D'OR). TAKE ONE TO TWO INCH SECTIONS AND CURL HORIZONTALLY HOLDING FOR 3-10 SECONDS. LOOSEN SLOWY, HOLDING CURL TO PIN IN PLACE (USE A BOBBY PIN). DO THIS TO YOUR ENTIRE HEAD - LET EVERYTHING COOL TO GET THE BEST LONGEVITY OUT OF YOUR STUNNING BLOWOUT! TAKE OUT ALL BOBBY PINS TO LET CURLS DROP. CAREFULLY RUN BRUSH OR FINGERS THROUGH TO GIVE A MORE SMOOTH LOOK.
Day 12
BRAIDS AND BANGS
LET'S USE OUR BLOWOUT FROM THE DAY BEFORE AND JUST SPICE IT UP A LITTLE WITH TWO FRENCH BRAIDS! TAKE 2, 1 INCH WIDE SECTIONS USING YOUR PART AS THE MIDDLE OF THE TWO. START BY BRAIDING BACKWARDS ONCE DONE SECURE WITH ELASTIC (YOU CAN PULL APART THE BRAID A LITTLE FOR A FLUFFIER LOOK). PRO TIP: IF YOU WOULD LIKE TO HIDE THE ELASTIC TAKE A SMALL SECTION OF HAIR AND WRAP IT AROUND THE ELASTIC SECURING IT WITH A BOBBY PIN.
Day 13
BRAIDS AND BUN
IF YOUR BRAIDS ARE STILL IN AND LOOK TIDY FROM YESTERDAY LET'S KEEP THEM IN AND REFRESH A LITTLE. SPRAY SOME ORIBE DRY SHAMPOO TO GIVE A LITTLE TEXTURE TO THE HAIR FOR AN EASIER MESSY BUN LOOK. GATHER HAIR INTO A HIGH PONY, WRAP ELASTIC AROUND 2-3 TIMES NOT PULLING HAIR ALL THE WAY THROUGH THE LAST TIME. PULL APART FOR A MORE MESSY LOOK. PRO TIP: IF YOU HAVE FINER HAIR, SPRAY ORIBE TEXTURE SPRAY IN BEFORE CREATING THE BUN TO GIVE A FULLER LOOK.
Day 14
BOBBY PIN CROWN
RESET AND RESTYLE DAY! WASH HAIR USING THE DOUBLE SHAMPOO METHOD. CURL HAIR USING METHOD FROM DAY 2! PART HAIR IN YOUR EVERYDAY PARTING, TAKE BOBBY PINS AND PLACE AROUND YOUR HAIRLINE, MAKING SURE THE FLAT SIDE IS FACING UP. ADD TEXURE SPRAY INTO CURLED ENDS IF YOU ARE GOING FOR A MORE PIECEY TEXTURED LOOK.
Day 15
HALF WAY// HALF UP HALF DOWN
YAY YOU'RE HALFWAY THROUGH THE CHALLENGE! TIME FOR A HALF UP HALF DOWN STYLE.
USING A SCRUNCHIE OR A CLAW CLIP// SPACE BUNS // BRAIDS. USE YOUR CREATIVITY & CREATE A FUN//FUNKY HALF UP HALF DOWN HAIRSTYLE.
Day 16
SLEEK BANGS
LET'S ADD A LITTLE SPICE TO CURLY OR STRAIGHT HAIR. TAKE ABOUT A 1 INCH SECTION AROUND YOUR HAIRLINE AND PIN YOUR BANG PIECES BEHIND YOUR EARS WITH BOBBY PINS, OR SECURE WITH A SMALL CLEAR ELASTIC IF YOUR HAIR IS LONG ENOUGH. HEAD OVER TO FRANKIE'S INSTAGRAM FOR A MORE IN-DEPTH TUTORIAL ON THIS STYLE.
Day 18
HEATLESS HAIRSTYLES
VIDEO TUTORIALS OF 3 HEATLESS HAIRSTYLES (LONG//SHORT//MEDIUM).
TODAY IS THE DAY - CHALLENGE YOURSELF TO NOT USE ANY HEAT ON YOUR HAIR! TRY OUT ONE OF THESE EASY HEATLESS HAIRSTYLES.
USING TOO MUCH HEAT ON YOUR HAIR CAUSES DAMAGE & CAN SLOW DOWN HAIR GROWTH.
Day 19
SLEEK SLEEK BUN
LOOKING FOR A CLEAN SLEEK LOOK WITH A TWIST? WELL TODAY IS YOUR DAY! TRY A SLEEK BUN BUT INSTEAD OF STRUGGLING TO MAKE SURE EVERY PIECE OF HAIR IS PINNED IN, EMBRACE THE FLYAWAYS.
Day 20
AU NATUREL
TODAY'S CHALLENGE IS TO LEAVE YOUR HAIR COMPLETELY NATURAL//NO HEAT.
IF YOU WANT TO SPICE IT UP, ADD A SMALL BRAID ON ONE OR BOTH SIDES.
IF YOUR NATURAL HAIR NEEDS A LITTLE BIT OF HELP, TRY OUT THESE PRODUCTS TO GET THE BEST OUT OF YOUR NATURAL HAIR.
TRY SOME OF OUR FAV CURLY PRODUCTS:
Day 21
WATER & VITAMINS
KEEP ROCKING THE TEXTURED WAVES FROM YESTERDAY & WORK ON THE HEALTH OF YOUR HAIR. YOUR CHALLENGE TODAY IS TO DRINK A MINIMUM OF 8 GLASSES OF WATER & TAKE ALL OF YOUR FAV VITAMINS.
SOME GREAT ONES FOR HAIR GROWTH & HEALTH ARE VITAMIN B//C//D.
STAYING HYDRATED HELPS ENERGIZE & SUPPORT HAIR GROWTH FROM ROOT TO TIP. BELIEVE IT OR NOT, WATER MAKES UP ALMOST 25% OF THE WEIGHT OF A SINGLE STRAND OF HAIR. DRINKING WATER WILL HELP THE STRENGTH OF YOUR HAIR & INCREASE GROWTH. IT ALSO HELPS PREVENT SPLIT ENDS & A BRITTLE HAIR TEXTURE, AS WELL AS FOSTERS A HEALTHIER SCALP MEANING YOU'LL HAVE FEWER CHANCES OF DEVELOPING PROBLEMS LIKE DRYNESS//ITCHINESS//DANDRUFF. JUST AS WATER HYDRATES & REPLENISHES YOUR SKIN//IT DOES THE SAME FOR YOUR SCALP & IN TURN YOUR LOVELY LOCKS.
SO DRINK UP & IF YOU'RE WANTING A FUN SPIN ON YOUR DAILY INTAKE, TRY INFUSING YOUR WATER WITH FLAVOUR//OUR FAVOURITES ARE LEMON//MINT//CUCUMBER//BERRIES.
Day 22
HAT HAIR
TODAY CALLS FOR A HAT DAY! STRETCH YOUR HAIR WASH ONE MORE DAY WITH THESE STYLES TO WEAR UNDER A BALL CAP. LET'S SPRAY SOME DRY SHAMPOO AND EMBRACE THAT GREASE!
TWO SMALL BRAIDS//LOW BUN//TEXTURED WAVES//STRAIGHT HAIR.
Day 23
REFRESH FROM THE INSIDE OUT
WASH YOUR HAIR & EAT HAPPY HAIR FOODS INCLUDING AVOCADOS...
WHY DOES EATING HEALTHY HELP PROMOTE HEALTHY HAIR & GROWTH? LET ME TELL YOU WHY:
YOUR HAIR JUST LIKE ANY OTHER PART//CELL OF YOUR BODY NEEDS A HEALTHY DIET TO KEEP YOUR HAIR STRONG & SHINY. TRY ANY FOODS WITH LOTS OF PROTEIN//VITAMINS//BIOTIN.
Day 24
BUBBLES AND BRAIDS
KEEP UP THE HEATLESS HAIRSTYLES & TRY OUT A BUBBLE BRAID, LONG HAIR OR SHORT // 1 BUBBLE BRAID OR 2, THIS FUN TRENDY HAIRSTYLE CAN UP ANY OUTFIT.
Day 25
ZIG ZAG
SPICE UP THE SLEEK LOOK EVEN MORE BY ADDING A SPUNKY PART. TAKE THE END OF A COMB AND MAKE A STRAIGHT//ZIG ZAG PART.
TIP: USE A MOISTURIZING HAIR CREAM TO GIVE THE SLEEK LOOK AND HAIRSPRAY TO KEEP THE HAIR AND PART IN PLACE.
Day 26
SELF CARE RESET
TODAY IS THE DAY TO RELAX AND RESET! CHOOSE A HAIR AND FACE MASK OF YOUR CHOICE, AND LIGHT YOUR BEST SMELLING CANDLE.
NOW IS YOUR CHANCE TO CLEAN YOUR HAIR, BRUSH AND RESET.
Day 27
BRAIDS BRAID BRAIDS
1//2//3//4 SMALL OR BIG, INCORPORATE A BRAID INTO TODAY'S HAIR.
IF YOU WANT TO SPICE IT UP, YOU COULD ADD SOME CURLS OR KEEP YOUR HAIR NATURAL FROM YESTERDAY.
Day 28
BLOWOUT & SELFIE
ANOTHER DAY, ANOTHER BLOWOUT. THIS TIME TAKE A SELFIE & DON'T FORGET TO TAG US!
Day 29
DOUBLE DOUBLE
TODAY'S CHALLENGE//
DOUBLE BUN. AS THE 30 DAYS COME TO AN END, SO DO THE EASY CHALLENGES, THIS ONE WILL NOT ONLY PUT YOUR SKILLS TO THE TEST BUT ALSO HELP YOU STEP OUT OF YOUR COMFORT ZONE WITH HAIRSTYLES.
Day 30
LAST DAY
WASH YOUR HAIR//AND STYLE IT AS YOUR FAVOURITE HAIRSTYLE FROM THE LAST 30 DAYS. DON'T FORGET TO TAKE PICS AND TAG US ;) THANKS SO MUCH FOR JOINING US ON THIS 30 DAY CHALLENGE, WE HOPE YOU HAD FUN.
DON'T FORGET TO TAG US.
POST AN INSTAGRAM STORY WITH EACH DAY'S HAIR CHALLENGE AND DONT FORGET TO TAG US AND USE #FRANKIEMADEMEDOIT.
FRANKIE INSTAGRAM
CONTACT US.
ADDRESS: 570-220 LAKELAND DRIVE, SHERWOOD PARK ALBERTA
EMAIL: HELLO@FRANKIESALON.COM
PHONE: (587) 713-8006
YOU CAN ALSO CONTACT US USING THIS FORM.
JOIN THE FRANKIE FAMILY & GET ADDED TO OUR EMAIL LIST